All-foam alternatives to 15-minute intumescent paint thermal barriers
Customizable solutions to meet the demands of today's standards and performance specifications.
The

Smart Choice

for Superior Thermal Barrier Performance

Staycell ONE STEP® Systems patented technology combines high performance, closed-cell Spray Polyurethane Foam (ccSPF) with built-in intumescent thermal barrier. The International Building Code (IBC) and International Residential Code (IRC) mandates that SPF be separated from the interior of the building by a 15-minute thermal barrier or qualify as an Alternative Thermal Barrier Assembly (ICC 1100-2018) based upon passing the NFPA 286, UL 1715, UL 1040 or FM 4880 fire test standards. Staycell ONE STEP® Systems offer superior fire-resistance and pass the UL 1715 fire test standard exposed without the use of intumescent or cementitious thermal barrier coatings – a major advancement that saves valuable time and money, while improving performance & safety. All fire testing was performed by IAS Accredited Testing Agencies and comply with the requirements of the 2012, 2015 and 2018 IBC and IRC. Staycell ONE STEP® Systems are 3rd party inspected for quality and consistency.
Which Staycell ONE STEP® System is right for your next project?
Both systems consist of high-performance, closed-cell SPF.  System selection depends upon required  R-value/SPF thickness, permeability and degree of installation difficulty (ex. high in the air, tight/inaccessible cavities, etc.)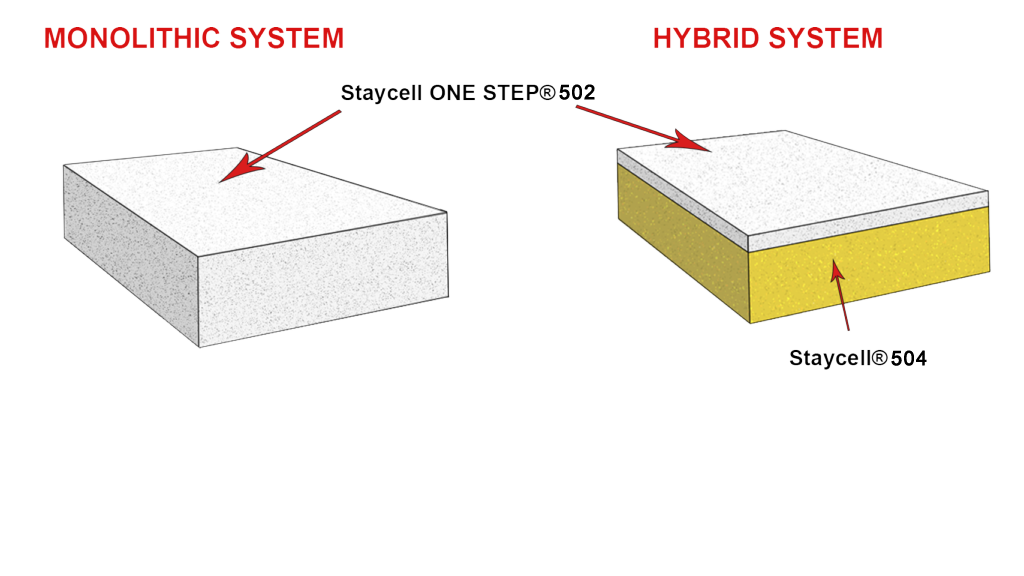 A System For Each Application
Here are a few reasons why I do business with Preferred Solutions, Inc. (PSI): Innovative, high-quality materials — ONE STEP® eliminated the problems I was having with intumescent paint thermal barriers and is now my go to product.  Experience – PSI's 30+ yr history in manufacturing, contracting and building science makes it an ideal partner for success.  Service – If there are any technical questions or issues with an architect or code official, I can get a PSI representative on the phone quickly to find a resolution.
Jim Fedor – Compass Insulation & Specialty Coatings, Inc.
The Staycell ONE STEP® Performance Advantage

Save up to 40% vs. standard ccSPF covered with intumescent paint thermal barrier


Superior fire resistance – passes UL 1715 large-scale fire test without spray-on thermal barrier, improving performance & safety

Listed and certified by QAI Laboratories (QAI Listing Report No. B1020-1)

ONE STEP® manufacturing facilities are 3rd party inspected for quality control

Won't peel or flake – suitable for installation in high humidity environments and unconditioned spaces without primers or topcoats

Broad installation range – apply between 10°F – 120°F and up to 85% RH without supplemental heating or dehumidification

Improved fire safety during construction – protects against accidental fires caused by welding sparks and cutting torches

Redundant fire safety after construction. Where gypsum board is installed over the SPF as the interior finish, ONE STEP® protects against fires caused by electrical shorts or maintenance activities occurring behind the drywall.

Meets strict VOC and AQMD emission requirements – no formaldehyde or ozone-depleting materials

Contributes to LEED-rated building certification